This is paragraph text. Double click here to edit and add your own text.
COVID, Seasonal flu
Hydroxyl generator
Ozone generator
Pathogen elimination
Virus disinfection
Bacteria disinfection
Life after COVID: Are you prepare for the next pandemic

Healthcare experts have urged that there is " no better time than now "
We have developed newer devices and system besides vaccines to deal with that
The Bouncer / Germs Interceptor
Germs Interceptor is a disinfection station designed to keep viruses, bacteria outside of your house by blasting high velocity air mix with Hydroxyl or Ozone off a person for disinfection. It dislodges particulates and pathogens that clinging to cloths and skin. The dislodged pathogens will be inactivated upon contacted with high momentum Hydroxyl or Ozone. The device is to be placed at front entrance doorway disinfected occupant prior to admit entry. No chemical and liquid used. The handheld model is for competing with thermal and cold foggers.
User selectable mode of disinfection includes:
Hydroxyl, Ozone, Bi-Polar Ions, UV-c-b-a and 222nm UV and High Energy Acoustic.
Handheld model operates on lithium ion rechargeable battery, weight 12 lbs.

Complete disinfection in two simple steps
Germicidal blasting station
Germicidal blasting station
NASA & Gatling inspired hybrid disinfection
We are looking for business partner
Upper-Room 3D motion Active-Air Convection whole room disinfect station
This standalone mobile based station is the industry's most advanced Upper-Room Germicidal device.
Features:
* Continuous operation with occupants inside a room.
* Active-Air Convection-- Provides disinfected air in the entire upper-room religion, capturing contaminated air from floor level. Conventional Upper-Room machines are Passive air convection.
* Dual germicidal chamber-- Select internal chamber when occupants exist, select external chamber when the room is vacant or combines use of both chambers for fast disinfection.
* Swivel active-air jet delivers fresh disinfected air in greater than 180 degrees in horizontal plane minimize blind spots. Only active air convection able to disinfect a room from ceiling to floor level.
* Variable active-air convection speed provides 400 to 740 CFM covering large venue.
* Operable up to ten feet ceiling height. Lowering to under six feet for maintenance without a ladder.
* Wi-Fi connected and programmable from smart phone for remote operation.
* Plug & Play, total elimination of high cost installation and maintenance.
User selectable mode of disinfection includes:
Hydroxyl, Ozone, Bi-Polar Ions, UV-c-b-a and latest 222 nm UV and High Energy Acoustic.
Upper-Room Germicidal station
Upper-Room Germicidal station
This is not the Last Pandemic
Whole body sanitizing
From head to feet
Active Air Convection sanitize from ceiling to floor even occupants exist.
International Patent Pending
World's First Virus Killer Molecular Fogger helps protect from seasonal flu
In home - Office unit AC only 110-240 AC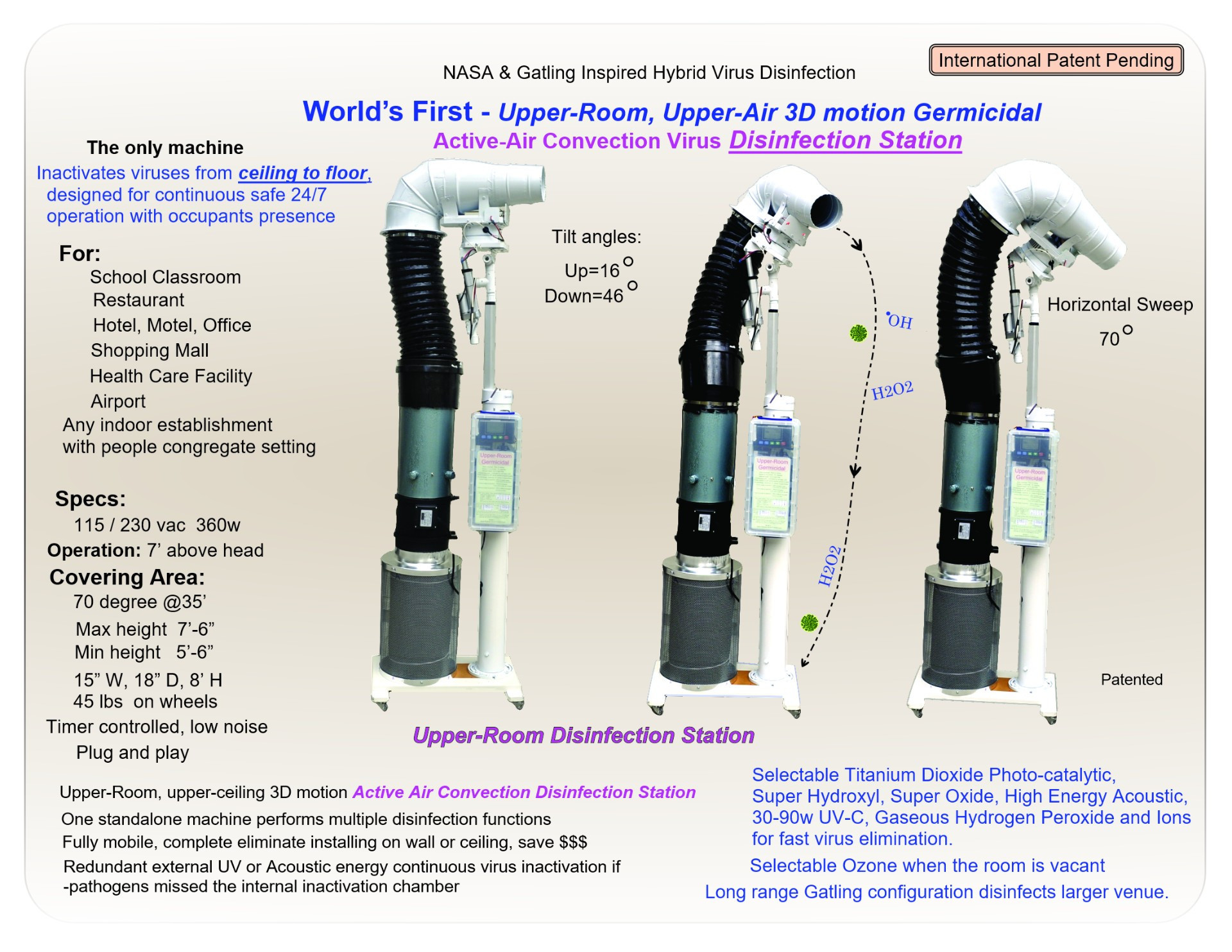 Our IP are available for Licensing or Purchase. Please contact us.